COMPANY PHILOSOPHY
The company ideals guiding Asahi Roll are "creation, cooperation, challenge", and the commitment of all company employees to these ideals is the basis of the "Asahi Spirit". Simply put, the Asahi Spirit may be said to be the spirit of the craftsman, the passion for making things.
"Creation" refers to the spirit of building on the traditional sensibilities and skills developed at Asahi Roll since its inception and adding creative innovations to create original new products.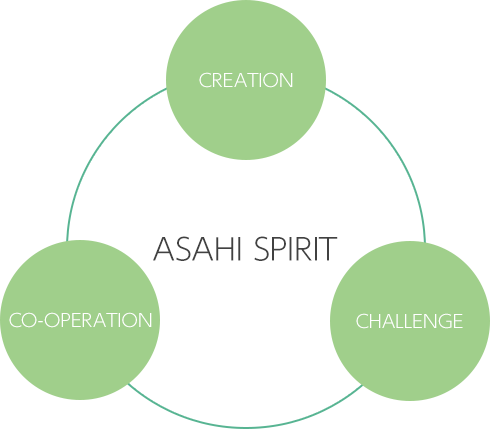 "Cooperation" refers to the unified production system in the company and the way that each division pulls together as one to produce quality products." "Cooperation" also refers the companyfs awareness of its role in local and global society.
"Challenge" refers to the spirit of working to overcome difficulties to develop daring new production methods.
It is this Asahi Spirit that drives and supports the top-class technology achieved by Asahi Roll.